Join our volunteer staff, participate in training programs, help with a one-time event or short-term project, or bring your gifts, skills and talents to serve Pomona Hope in creative ways.
We welcome all volunteers, ages 18 and older, to partner with us. Before serving, all volunteers must be trained and fingerprinted. In addition, High School students are welcome to attend the program and volunteer simultaneously. They also must be trained before serving.
To RSVP for an upcoming volunteer/intern training, please click here (adults only)
Are you a High School student? Sign up for a High School Volunteer training here (High School students only)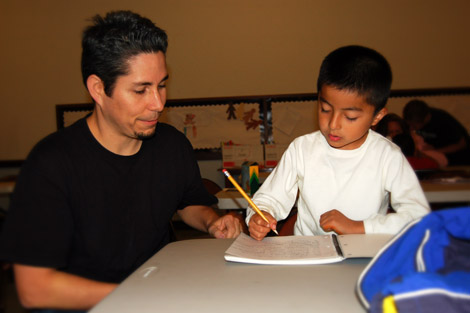 Ongoing Volunteer Opportunities:
(All adult volunteers must be trained and fingerprinted before serving)
Homework Helpers
Individualized Instruction Tutors
Curriculum Organizers
Set Up Supporters
Administrative Assistants
Snack Servers
Computer Instructors
Art Instructors
Gym Coaches
Check In Attendants
Classroom Decorators
Incentive Store Managers
Volunteer Training* and Fingerprinting**
Adults(over 18): For information on the next volunteer training contact Nora Codina via e-mail at nora@pomonahope.org or phone 909-921-3618 x4.
High School students: Contact Liz Hawisher via e-mail at liz@pomonahope.org or phone 909-921-3618 x2. RSVP to a High School Volunteer Training here