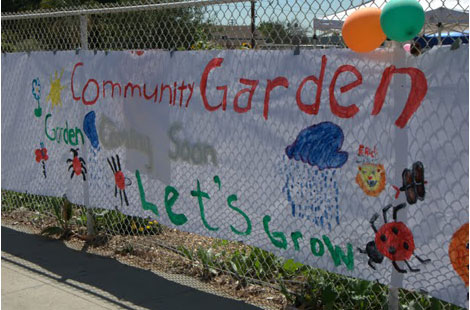 In 2010 the city of Pomona leased an empty lot across the street from the Community Center to the church for a Community Garden. In 2011 the garden was dedicated to the neighborhood as the Center Street Community Garden. Pomona Hope is proud to partner with the First Presbyterian Church of Pomona. This effort reduced crime in our immediate neighborhood by 40% in the first six months.
The vision of the garden is to grow food, people, and the community. Families tell us they save over $100 a month in grocery bills. In the future, Pomona Hope hopes to pilot a scalable model for urban green-space and gardening, as well as continue to impact the local community positively in terms of decreasing crime, increasing relationships, allowing opportunities to learn about gardening, agriculture and nutrition, and improving the lives of neighbors both through the beauty they see outside their doors, and the nutrition of the food they can put on their dinner tables.
On the first and third Saturday of the month, we have Garden Workdays. Whether you are a plot holder or a volunteer, you are invited to put in some work in the garden and then take home some produce from our community plots.
For more information or to rent a garden plot please reach our Garden Coordinator, Barbara Evans, at [email protected]