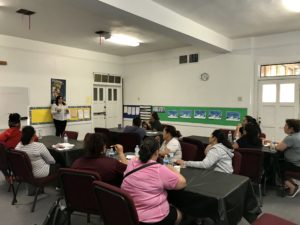 *Please note that this parent support group is NOT COURT-MANDATED APPROVED. While members of the community are welcome to attend by RSVP, it is mainly intended for parents of the Pomona Hope after-school program. For court-mandated parenting classes in the City of Pomona, please contact the Tri-City Wellness Center at (909) 242-7600
******
*Tenga en cuenta que este grupo de apoyo para padres NO ESTÁ APROBADO PARA CASOS DE CORTE. Mientras los miembros de la comunidad son bienvenidos a asistir con confirmación previa, está destinado principalmente a los padres del programa de Pomona Hope. Para clases de padres ordenadas por la corte en la Ciudad de Pomona, comuníquese con el Centro de Salud de Tri-City al (909) 242-7600
__________________________________________________
PADRES FUERTES HACÉN FAMILIAS FUERTES (Strong Parents Make Strong Families)
We understand the importance of a well-balanced family dynamic. Our parent group helps parents gain support, confidence, encouragement, and access to knowledge of other community resources.
"Padres Fuertes Hacén Familias Fuertes" is a parent-led support group made available to families of the Pomona Hope after-school program. The structure includes discussing parenting issues, sharing ideas, and opportunities for participants to collaborate as they work to address personal goals and family issues. The support group does not offer professional advice or counseling.
This group is held every two (2) weeks on Saturday from 11:00 a.m.- 12:30 p.m. (Please contact us for upcoming Fall 2021 dates). Due to the COVID-19 pandemic restrictions, we are currently holding the meetings via Zoom and are facilitated only in the Spanish language.
While the program is open to the community, please note that it is NOT court-mandated approved and certificates are not provided to participants.
When in-person, snacks are served and child care provided to those parents that need it. Classes are free of charge and open to the community by RSVP!
For more information please feel free to contact our Outreach Director, Nora Codina at – [email protected] or (909) 921-3618 ext. 4
(En Español)
PADRES FUERTES HACÉN FAMILIAS FUERTES
Entendemos la importancia de una dinámica familiar equilibrada. Nuestro grupo de padres ayuda a los padres a obtener apoyo, confianza, aliento y acceso al conocimiento de otros recursos comunitarios.
"Padres Fuertes Hacén Familias Fuertes" es un grupo de apoyo dirigido por padres que está disponible para las familias del programa despues de escuela de Pomona Hope. La estructura incluye discutir temas relacionados con la crianza de los hijos, compartir ideas y oportunidades para que los participantes colaboren mientras trabajan para abordar sus metas personales y problemas familiares. El grupo de apoyo no ofrece asesoramiento ni consejeria profesional.
Este grupo se lleva a cabo cada dos (2) semanas en los dias sábado de 11:00 a.m. a 12:30 p.m. (Comuníquese con nosotros para conocer las fechas de otoño del 2021). Debido a las restricciones de la pandemia de COVID-19, actualmente estamos llevando a cabo las reuniones a través de Zoom y se facilitan solo en el idioma español.
Si bien el programa está abierto a la comunidad, tenga en cuenta que NO está aprobado por mandato judicial y no se proporcionan certificados a los participantes.
Cuando se realiza en persona, se sirven bocadillos y se brinda cuidado infantil a los padres que lo necesiten. ¡Las clases son gratuitas y abiertas a la comunidad por RSVP (confirmación previa)!
Para obtener más información, no dude en ponerse en contacto con nuestra directora de alcance, Nora Codina, al – [email protected] o al (909) 921-3618 ext. 4
UPCOMING EVENTS/ EVENTOS PROXIMOS