The Importance of After School with Pomona Hope in the Students' Words…
Yulianna, Grade 6
Pomona Hope is a very good place for kids who need help on their homework or who want to get to a good place. My heart loves Pomona Hope. I believe that Pomona Hope is a very good program where I can learn. I know that Emily wants me to go to college. That is why I am getting A's and B+'s. I hope Pomona Hope still exists in 100 years.
Marco, Grade 6
Pomona Hope has helpful volunteers. They help you with your homework and any other things you need help with. If you need help with anything you can ask Emily or a volunteer for help.
Ashley, Grade 5
Pomona Hope is an educational place where you can make lots of friends. There are lots of activities and fun things to do. At this program you can meet lots of people. The director is Emily. She is awesome; if you have a problem she can solve it!
Erik, Grade 7
I kept coming to Pomona Hope because it's just a very fun place to come to. I mean like it's so fun that Emily had to make a waiting list because so many kids want to come. I feel bad for the kids that are on the waiting list. I just love After School with Pomona Hope. It's a place to chill out and make friends and do homework. And the volunteers are cool. I talk about After School with Pomona Hope 24/7, that's how much I like this program. After School with Pomona Hope means a lot to me.
Omar, Grade 5
If After School with Pomona Hope didn't exist, I would've been in serious trouble. This place totally changed me. Who doesn't like this place?! After School with Pomona Hope gave me a purpose to why I'm alive. It's a safe place to be. Without this place I wouldn't have done my homework. After School with Pomona Hope is like home. The volunteers make you happy. You can also get treats for bringing academic awards. Without this place my life would be horrible.
Pablo, Grade 4
I like coming to Pomona Hope. I can't do my homework by myself. Plus, if I didn't come I would be bored at home, doing nothing except just needing help on my homework . Even my mom can't help with my homework so that's why I come to After School with Pomona Hope, so that's why my mom is going to English classes.
Jesus, Grade 3
I'm the most thankful for Emily. She watches out for us. I am also thankful for the volunteers because they help us. I am also thankful for Miss Marge, because she is kind.
Brenda, Grade 5
When I think about Pomona Hope, I am most thankful for Emily because she made this program. She keeps us safe. The way Emily keeps us safe is she has rules for us. She teaches us lots of stuff. She lets us play in the gym. She gives us treats.
Luis, Grade 5
I like coming to Pomona Hope without it my life would never be fun. Since I started to come I started to feel more responsible for everything. When I go I feel the future.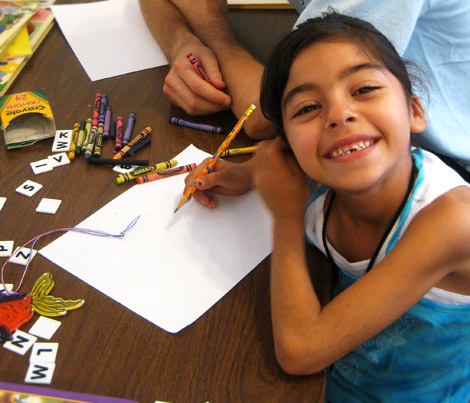 From Erica, mother
We have been involved with After School with Pomona Hope for the last two years. Our commitment to the program is so strong that, after planning to move to a different city, we changed our mind and decided to stay in Pomona so that our kids could attend the After School Program. Luis, our fourth grader, especially didn't want us to leave Pomona, because Pomona Hope Kids meant that much to him.
Also, we have stayed committed to the program because we see that our kids are doing very well in school. Their statewide tests show that they are keeping their ability in school at-or-above grade level: Jessica, our second grader, is reading at the fourth grade level. When she began attending the program last year, she could barely read.
If Pomona Hope didn't exist, our children would have a more difficult time doing their homework because sometimes my husband and I don't understand it and can't help them. Also, our son Luis would probably be on the streets or doing nothing after school every day, like many other boys his age.
In our neighborhood, what Pomona Hope is doing for kids is really needed. I am thankful for God and the volunteers who make time and support our kids. I want Pomona Hope to continue helping the kids and showing them the right steps to take to succeed in life. Like all mothers, my dream is that, with the help of Pomona Hope, my kids become somebody and become volunteers to make a difference.